Guided tour of the penny loafer factory
Date: Wednesday 15 jan 2020 - Wednesday 31 Mar 2021
Show map
Experience the tradition and craftsmanship of The Aurland Shoe (the original penny loafer), meet the shoemaker and learn how the shoes are made.
The Aurland Shoe factory is an exhibition centre for shoe production based on the Canadian Économusée concept. This visitor centre tells you about the history of the original penny loafer and skills involved. You will meet the shoemaker and experience the whole process from leather to finished shoes, bags and so on.
Show more
Book now - choose start date and product
Pension
Distance: 6.3 km
A lovely pention by the fjord with beautiful view.
Accomodation
Distance: 18.3 km
Welcome to Vatnahalsen – an all year destination in the heartland of the Norwegian natural and cultural heritage. Ever since 1896, Vatnahalsen has been a popular destination for Norwegians and Europeans in search of a mountain sanctuary. It's a great base, whether you want to enjoy traditional food and scenic views, go skiing, or explore Nærøyfjorden, one of UNESCO´s World Heritage sites. All transport to and from Vatnahalsen Hotel is by train.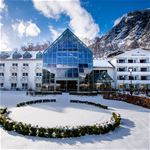 Hotel
Distance: 6.3 km
In the center of Flåm, in the innermost part of the Sognefjord you'll find the beautiful Fretheim Hotel. There are always ghosts in historical hotels, so Fretheim Hotel has more to offer than just accomodation