Heritage Taste FjordSafari
Fecha: Viernes 1 may. 2020 - miércoles 30 sep. 2020
Mostrar mapa

Heritage Taste FjordSafari – The Nærøyfjord and goat cheese tasting in Undredal Village!
Join us on this soft adventure by zodiac and experience the Aurlandsfjord and the whole UNESCO listed Nærøyfjord. Enjoy the breathtaking scenery, stories, tales and history shared by your personal guide. On our way back to Flåm we go ashore in Undredal, a small village squeezed in between tall mountains. Undredal is famous for its goat cheese production and our local host will give us an introduction to these traditions. We get a chance to try the different types of local cheeses served with flatbread and jam.

If you find your favorite goat cheese in Undredal, it is possible to purchase cheeses from the café before departure.
Mostrar más
Acerca de esta actividad
Phone number (booking)

Phone number

Contact person email

Información de precios
Alojamiento en los alrededores
Alojamiento
Distancia: 13,3 km
Welcome to Vatnahalsen – an all year destination in the heartland of the Norwegian natural and cultural heritage. Ever since 1896, Vatnahalsen has been a popular destination for Norwegians and Europeans in search of a mountain sanctuary. It's a great base, whether you want to enjoy traditional food and scenic views, go skiing, or explore Nærøyfjorden, one of UNESCO´s World Heritage sites. All transport to and from Vatnahalsen Hotel is by train.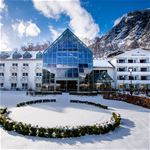 Hotel
Distancia: 140 metros
En el centro de Flåm, en la parte más interna del fiordo Sognefjord se encuentra la hermosa Fretheim Hotel. Siempre hay fantasmas en hoteles históricos, por lo Fretheim Hotel tiene más que ofrecer que sólo alojamiento
Pensión
Distancia: 173 metros
A lovely accomodation by the fjord with beautiful view.