Vatnahalsen Hotel
Dirección

: Vatnahalsen Høyfjellshotell, 5718 MYRDAL
mostrar mapa
Ubicación
: Flåm
(Mountain area)
Hotel | Welcome to Vatnahalsen – an all year destination in the heartland of the Norwegian natural and cultural heritage. Ever since 1896, Vatnahalsen has been a popular destination for Norwegians and Europeans in search of a mountain sanctuary. It's a great base, whether you want to enjoy traditional food and scenic views, go skiing, or explore Nærøyfjorden, one of UNESCO´s World Heritage sites. All transport to and from Vatnahalsen Hotel is by train.
Vatnahalsen was originally built as a sanatorium in 1896, but it was never used for its intended purpose. Instead, it became popular as a hotel because of the Bergen Railway. After the Bergen Railway was opened in 1909, and especially after the Flåm Railway was connected with the Bergen Railway in 1940, Vatnahalsen became a great winter destination. The hotel´s guest books from the 1930s show how Norwegian, British, German and Dutch skiers enjoyed their stay. Due to steep mountains and the arrival by train, many of them called it the Nordic St. Moritz. For several decades winter was the most important season.
Then slowly, from the mid-1980s, biking along the old road next to the Bergen Railway became popular, and summer traffic at the hotel increased considerably. Today, the Rallar road is considered the finest bike road in Norway. But regardless of shifting trends, throughout the last 120 years, Vatnahalsen Hotel´s vision has been to create a relaxing and pleasant atmosphere where everyone feels welcome. Here you can arrive any time of the year and find a homely atmosphere, a comfortable bed, a hearty meal and a hospitable host. For the past 35 years, the hotel has been run by the Aksnes family, and today´s manager Jannet is second generation Aksnes at Vatnahalsen.
Instalaciones y servicios
Las instalaciones generales

Número de habitaciones: 3

Número de habitaciones: 40

Number of bars: 1

Recepción

Piscina al aire libre

Informacion de Edificio

Último año de renovación: 2017

Built in year: 1953

Comer y beber en el hotel

Bar

Desayuno incluido

Almuerzo

Cena servida

Las instalaciones de ocio
Comparar "Vatnahalsen Hotel" con alternativas similares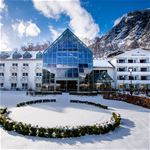 En el centro de Flåm, en la parte más interna del fiordo Sognefjord se encuentra la hermosa Fretheim Hotel. Siempre hay fantasmas en hoteles históricos, por lo Fretheim Hotel tiene más que ofrecer que sólo alojamiento
Myrkdalen Hotel has a perfect location with ski in – ski out access to the largest ski resort in Western Norway and 28 km of groomed cross-country trails. In summer the area offers a variety of hiking trails, adrenaline – filled activities and the idyllic Sogne Fjord and Nærøy Fjord are close by.